COP26 and the future of transport
Plans continue to take shape for October's COP26 convention in Glasgow – with Jaguar Land Rover signing up as the latest partner to support the important climate change conference. They'll be supplying a fleet of their electric vehicles to transport world leaders and delegates during the COP26 summit.
The announcement comes after Toyota's impressive demonstration of their electric, autonomous e-Palette shuttle pods wowed the transport industry at the Tokyo 2020 Olympic and Paralympic Games.
With the topic of how countries across the world can reduce the carbon emissions from vehicles on the road, we explore what the future of transport may have in store.
Delivering first class EV batteries in the UK
Britishvolt made the headlines with their plans to create the UK's first gigaplant. The state-of-the-art facility will be commissioned to manufacture electric vehicle batteries, with an investment of £2.6bn. Based in Northumberland in the North East, the new manufacturing plant will create around 3,000 jobs, with another 5,000 expected through the supporting supply chain.
The project will place the UK in a strong position to be able to gain the skills and expertise needed in this growing EV battery industry – as well as create supply chain opportunities to supply UK-based and overseas car manufacturers.
Advanced works began on site in early September – you can find out more about Britishvolt's plans below: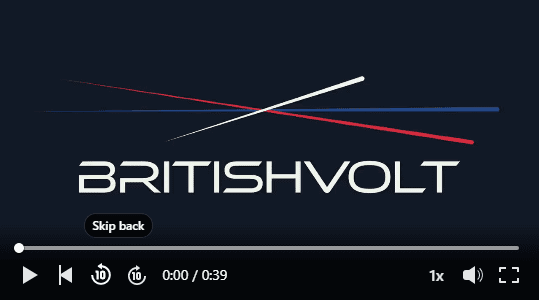 With the Government set to ban the sale of petrol and diesel cars and vans by 2030, significant investment and backing to develop the electric vehicle supply chain will be crucial to help meet the growing demand to switch to electric.
Using our railway infrastructure to offset vehicle emissions
As the race continues to develop EV technology with the power and scalability to power heavy goods vehicles, rail freight and multimodal transport solutions are nothing new. Moving goods off the road and onto the rail tracks for as much as the journey as possible, helps to reduce vehicle emissions as well as easing congestion on the roads.
When it comes to greener passenger journeys, insight from the Rail Delivery Group reports that 38% of Britain's railway is already electrified – with opportunities already identified to convert passenger carriages to low-carbon transport options such as battery and hydrogen technology. This will all help play an important role in the race to net zero.
In 2020 Network Rail set out their Traction Decarbonisation Network Strategy – with recommendations to reduce railway traction, which accounts for the largest proportion of emissions within the sector's diesel operations. This includes opportunities to further electrify key sections of track and the deployment of zero-carbon rolling stock.
We're committed to building a greener future
At the NRL Group, we're working with our clients to understand their future needs to ensure that we can provide them with the right services and people to achieve their energy transition and net zero plans.