Record long service celebrations for NRL's Sunderland team
NRL's Sunderland team are marking a record number of celebrations, as several members of the team jet off to enjoy long service holidays.
The team of 11, based on Quay West Business Park in Sunderland, have an average 12 years working in recruitment at NRL – and a grand total of 130 years' combined service.
Three colleagues in particular headed off this year to mark 20 years' service, each taking a fully paid trip away – provided by NRL, in recognition of their hard work and dedication.
Branch Manager Emma Lowden, Head of Compliance Joanne George, and Senior Recruitment Consultant Rachel Fenwick each reached their impressive 20 years' long service milestones during the COVID-19 pandemic, so were unable to book their celebratory trips at the time – which includes a 7 night all-inclusive break to a worldwide destination to enjoy with a guest and 5 days additional annual leave to make the trip.
With 60 years' combined service between them, they reflect on their careers to date working in recruitment at NRL.
Emma Lowden, Branch Manager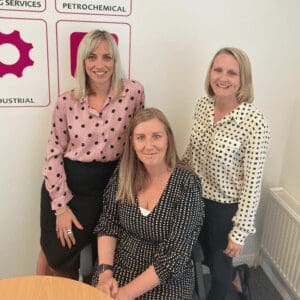 You've seen colleagues within the Sunderland team really grow and develop their careers during their time with NRL, it must be rewarding to be able to support them?
Absolutely! It's a fantastic part of the job. NRL have always invested heavily in entry level positions, and then supported a career development path.
In fact it is how myself, Joanne and Rachel started our careers, fresh out of Uni all those years ago! We have hit a lot of milestones together both personally and professionally. And to see everyone grow and develop as the business grows and develops is one of the best bits of my role.
We have a great mix of colleagues, those at the start of their careers and those with long service, the whole environment we have fostered here is one of curiosity and continuous learning and development. I must say it is a two way relationship, I learn every day from the fantastic team around me and the new ideas and initiatives they bring. Every day is a school day in here!
Joanne George, Head of Compliance
You've developed your career over the years to now be responsible for overseeing compliance for the branch, having started on the recruitment desk. How important is it to be given opportunities to grow you career in a direction that best fits you?
Starting straight out of Uni, with no experience of recruitment, NRL helped me build confidence and find where my strengths lie. Throughout the early years in my career I was able to work a variety of roles within the Branch. I found my focus on attention to detail and compliance naturally led to my career progression in the Compliance arm of the Branch. In my current role I oversee the branch compliance but it has also opened up further opportunities for me to support the wider Group which is a great development for me. Within NRL there is no 'one role fits all' instead your career path will develop according to your strengths
With a history of long termers, NRL and the Sunderland branch has always had a wealth of knowledge that has been passed down from top level. With encouragement and support to develop their people.
Even after 20 years I still love to learn and share my knowledge too!
Rachel Fenwick, Senior Recruitment Consultant
No year has been the same since joining NRL as you've progressed your career and taken on more responsibilities, how important is it to you that opportunities are available to learn more and grow?
Since the day I joined NRL the opportunities to progress were always highly supported and created an environment to develop my career.
It all started as a Recruitment Clerk and as I worked my way up to Senior Recruitment Consultant, the courses and opportunities I completed were very important in my progression. This has enabled me to establish, develop and mentor junior members of the team. Even though I have been here 20 years the learning and developing continues. I am attending a number of courses this year to continue to develop my skills around coaching junior members of the team.
20 years may seem like a long time to some people to stay with one company, but when your role continues to evolve, you are constantly challenged and you continue to grow. It has also been rewarding to see how much NRL has grown and developed so much within this time.
No day is ever the same in recruitment, learning and growing is a vital part of my development.
Interested in joining an organisation that will support you to be successful?
We're proud to lead by example, and always doing the right thing is at the heart of everything we do. That's why we're a carbon neutral organisation, and have signed the Armed Forces Covenant to welcome military personnel and their families to join our teams. We've also voluntarily signed up to the Living Wage Foundation to ensure our colleagues are paid a fair and real living wage, and are proud to offer this as a minimum for roles across our workforce. As well as a generous pension contribution, health cash plan to reclaim medical expenses and colleague benefits scheme to help with the cost of living.
Whilst it's important to us that we're able to support our colleagues outside of work, we're also committed to helping them to be the best they can be whilst performing their roles. That's why we work on a 1-2-1 basis to create tailored personal development plans and provide industry recognised training.
Sound like an organisation you'd love to join? Click below to search our latest vacancies.