The environmental benefits of packing lunch for work
As we kick off our year long focus on how we can all make environmentally friendly changes to help reduce our impact on the world around us, we take a look at the benefits packing lunch for work.
During your busy week balancing the demands of everyday life, work, and family, preparing your lunch for work can seem a little time consuming. Opting for a grab-and-go meal can often be seen as the most convenient option. However, allocating the time to prepare a pack lunch for work has many environmental, health and cost benefits that should make it your go-to choice for your lunchtime break.
It's more environmentally friendly
As grab-and-go lunches remain a prominent choice for the workplace breaktime, the amount of single-use plastic packaging in circulation continues to harm the environment. Taking a deep dive into the problem, WRAP (The Waste and Resources Action Programme) have identified that nearly 70% of our plastic waste comes from plastic packaging. Driving the need to launch the UK Plastics Pact – which aims to make 100% of plastic packaging recyclable, reusable or compostable by 2025.
Opting to use your own reusable food storage items such as lunch boxes, reusable food bags and eco-friendly cutlery will help you to greatly reduce the amount of plastic you purchase and throw away.
A homemade lunch also plays a part in reducing your own carbon footprint and food miles used to get those grab-and-go lunch items into local shops. Making your own pack lunch provides a great opportunity to buy local from the butcher and greengrocers who work with local farmers.
We know we all still like a few lunch time treats from time to time, so look out for cafes and lunch spots that use local produce and are making their own environmentally friendly changes.
It can be healthier
When you're next thinking of picking up your usual grab-and-go lunch items in the shop, stop and take a look at the nutritional traffic light system on the front of the packaging before making a detailed check of the full nutritional breakdown on the back. You may be surprised at how much sugar is in your tomato soup, or how much fat is in your BLT sandwich.
Packing your lunch provides a lot more control over what you're eating each day and allows you to be much healthier with your meals. Often reaching for a salad pot in the supermarket feels healthy, but salad dressings and the inclusion of processed foods can soon drive up the calories, fat, and sugar content.
Making your own also allows you to build a meal that suits your specific health goals – if you're looking to increase your fibre or protein intake or reduce starchy carbohydrates. Make planning your lunches fun, by looking at the health benefits of food items and the nutritional benefits they'll provide your body – all while remaining suited to your preferences and taste.
It's more cost effective and convenient
Pack lunches are also a lot more cost effective than impulsive grab-and-go meals – would it cost as much to make that sandwich or salad at home?
During busy days in the office, it's also reassuring to know that you have your lunch ready to go, which is one less thing ticked off your to do list. Instead of dashing to the shop you can use the extra time to ensure you're taking a proper break and catching up with colleagues – and if they're tucking into a packaged sandwich don't forget to tell them the environmental benefits of making their own lunch.
Getting colleagues involved
To help our own teams get into the habit of bringing a plastic-free lunch to work, we recently shared eco-friendly gift bags with all of our colleagues at the NRL Group's annual Christmas conference in December. Packed with sustainably made items to help them prepare a greener lunch at home, the gift bags included a reusable lunch box and cutlery set, coffee cup, water bottle and beeswax food wrap.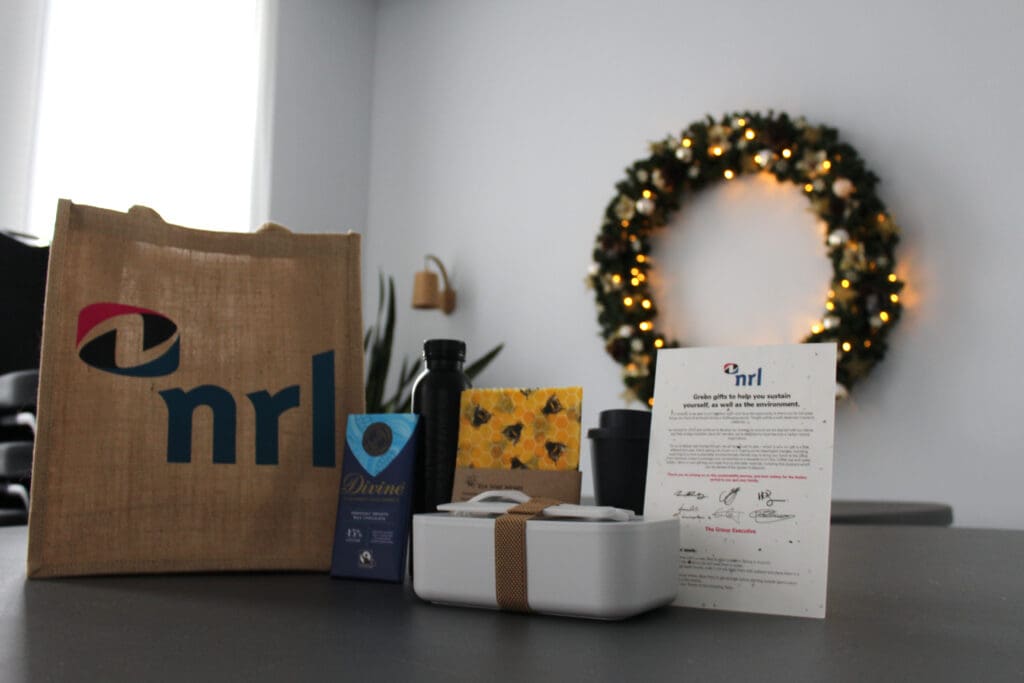 Find out more
To find out more about how we're reducing our impact on the planet, click on the link below.